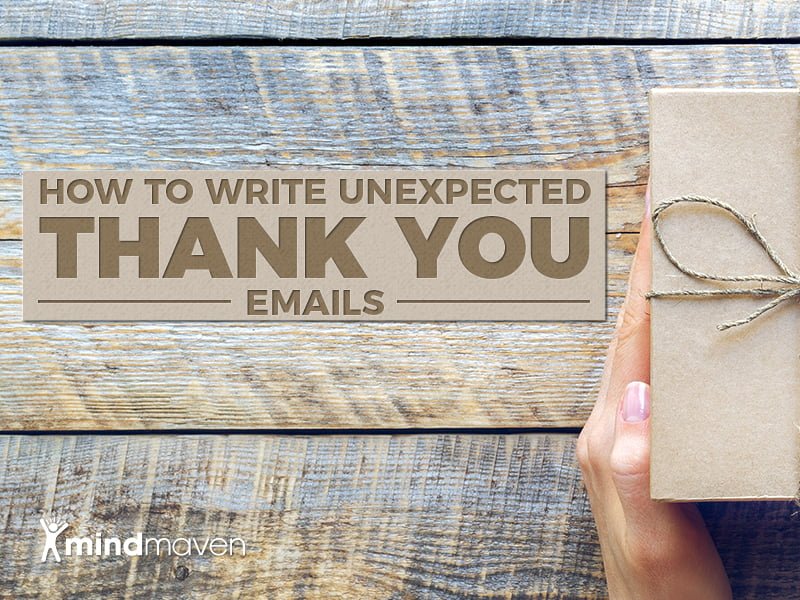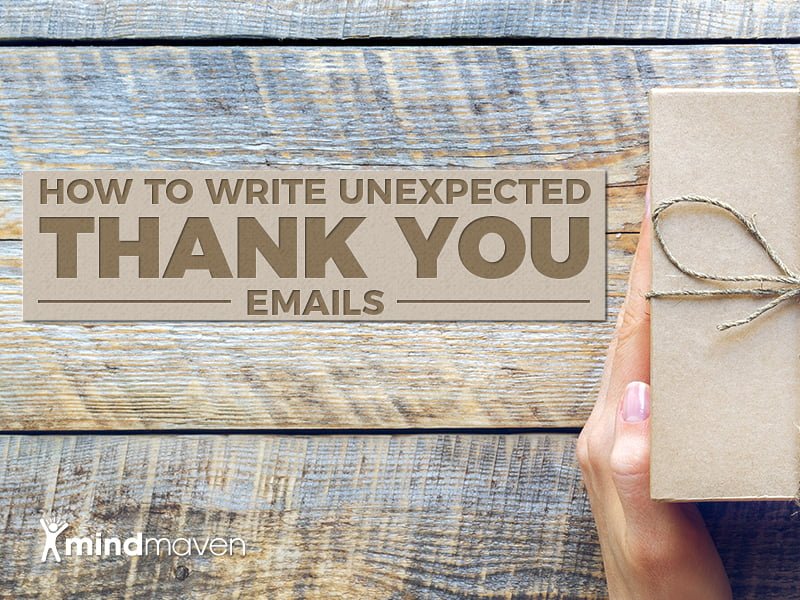 Saying thank you more often might seem like obvious advice, but the fact of the matter is, gratitude is one of the most powerful—and underutilized—ways to provide relevant, meaningful, and valuable interactions to your network.
Most people just don't leverage it to its fullest potential. Instead, they're only trained to say "thank you" in response to a specific trigger or event. For example:
A friend offers a complement,
An employee goes above and beyond, or
Someone offers a valuable introduction.
And while those are all great opportunities to express thankfulness, there's a whole other dimension to gratitude: Unexpected thankfulness.
What sets these thank yous apart is that they're entirely unsolicited because they aren't related to anything happening in the present moment. As a result, your gratitude comes as a pleasant, genuine, and heartfelt surprise to the other person.
The Benefits of an Unexpected Thank You Email
Untriggered gratitude can be incredibly powerful because it isn't done out of societal norms or social obligation. Let's take a look at three huge benefits of expressing thankfulness when others aren't expecting it.
#1: You make the other person the center of attention
When you say "thank you" in response to a favor someone did for you, the focus of the moment is still on you. But when you reach out to someone out-of-the-blue and thank them for something unexpected, the focus is entirely on them.
This will often lead to them feeling genuinely appreciated, and they'll tie that positive emotion directly back to you.
#2: You prove you truly care
When you thank someone—especially unexpectedly—you send a very clear message: I care about you and value our relationship.
Furthermore: Your kind act shows them that you're thinking about them at a time you might not be expected to, often resulting in you staying top-of-mind with them.
#3: You offer vulnerability
By expressing thanks, you're making yourself vulnerable. You're saying, "I couldn't have done this alone. I needed your help, and I appreciate you."
Vulnerability is a powerful source of connection. By being vulnerable yourself, you give them the opportunity to do the same, often deepening the bond you share.
How to Say Thank You Unexpectedly
In order to express gratitude unexpectedly, you have to be intentional and proactive about seeking opportunities to do so. Let me give you a quick example of how this might look:
First, the situation: It's been six months since one of your contacts introduced you someone who ended up becoming a major client. You sent a genuine thank you email immediately following the introduction, and that was the end of it.
Now, six months later, you decide to send this email:
Do you see how that would probably be more impactful than the thank you email you sent immediately following the interview? Because it wasn't triggered by obligation, it's likely to have a much more profound impact on the recipient.
Keep in mind: I'm not saying you should stop using triggered gratitude.  I just mean you should get in the habit of spending a little time each week intentionally thinking about who and what you're grateful for, and then expressing that gratitude in a genuine, meaningful way.
21 Great Opportunities to Say Thank You
You can thank someone for just about anything as long as you have feelings of genuine gratitude. As with anything, authenticity is key and inauthentic gratitude will usually be noticed and discarded by the recipient.
Need some inspiration? Here are some of my favorite reasons and opportunities to write a thank you email to someone in your network:
Simply for being a friend,
For being a reliable business partner,
On the anniversary of having met one another,
On the anniversary of having signed an agreement,
For a small favor they did more than six months ago,
For the positive traits you appreciate about them,
For being a mentor,
For offering their unwavering support,
For never being judgmental toward you,
For offering advice that made a positive difference in your life,
For introducing you to someone of value,
For an idea or concept they gave you,
For being someone you can rely on,
For introducing you to a tool, software, or best practice you're still using today,
For going above-and-beyond on something small,
For something they did for someone you care about,
For creating great content that has been valuable to you,
For telling you the truth (even when it's hard),
For inspiring you to overcome difficult odds,
For their honest insight and feedback on your work, or
For being willing to meet you in the first place.
Keep in mind that these are just inspiration. Consider scrolling through the names in your contact management system, choosing someone at random, and asking yourself: "What about this person can I be thankful for?"
How to Say Thank You More Often
The more you express gratitude, the more you can reap the benefits of it in your network. Here are two powerful tips to turn thank you emails into an automated habit.
#1: Evaluate Any and All Value
Anytime you perceive something of value, don't let it slip by unnoticed. Make a conscious note of it.
For example: Say a team member did an amazing job on a project. This potentially gives you a chance to thank two people: Both the team member and whoever introduced you to them.
Anytime you feel that "warm feeling" of gratitude, pause and ask yourself: "Why am I experiencing this?" See if you can trace it back to a person (or persons) who helped you feel that way. And if you can, thank them!
Let me give another example to really showcase how subtle and simple this can be:
Imagine you started a research campaign that led to a key appointment with a new business contact.
Even though you did most the work that drove that campaign to success, it was your colleague's idea to begin the campaign in the first place.
It may seem far away to attribute your hard-earned success to your colleague, but you can feel confident knowing they would really appreciate a genuine "thank you;" especially if that thanks was made publicly.
You never know where that gratitude might lead. Sometimes one little experience can lead to five or more unique and powerful interactions with your network, increasing how top-of-mind you are and dramatically boosting the chances that they'll send amazing opportunities your way.
#2: Intentionally Seek Gratitude
If you're like most people, you probably experience warm feelings of gratitude many times over the course of the day. The trick is to train yourself to be aware of them.
Like with any habit, it takes practice and effort. Let me help you get the ball rolling with a quick exercise. The goal here is to find ten people in your network you can send a thank you email to. Here's what I want you to do:
Go back to the list of 21 reasons to express gratitude. Stop and think about each item on the list for 30-45 seconds. Do any names come to mind?
For example: If you're on the "Say thank you to a mentor" item, just ask yourself who has given you valuable advice that made a difference in your life, no matter how small. Or think about a time you were struggling. Who was there to help?
If you've been in business for more than five years, you can probably come up with at least ten names. And once that list is complete, figure out who hasn't heard from you in the last 30 days.
If it's over 50%, you're probably missing out on valuable opportunities. There's a good chance most people on that list would appreciate an unexpected thank you, so start writing!
Bonus: How to Integrate Gratitude into Your Contactually Workflow
Here at Mindmaven, we have a suite of relationship management tools we recommend to our clients. One of those tools is Contactually, a powerful contact management system that helps you stay top-of-mind with the people who matter most.
When set up correctly, Contactually can accurately alert you whenever a connection hasn't heard from you in the last 30 days; making them prime for a thank you email. Here's what to do:
First, create a temporary bucket specifically for "thank you" targets. Add in all the people you came up with in the exercise above.
Then, in each contact's field, make a note of why you should thank them. This makes it easy to draft an email when the time comes.
And when Contactually alerts you that it's been more than 30 days since your last interaction, all you've got to do is open their profile, review your "thank you" notes, and write the email!
Free eBook!
Thanks for reading! I hope you found our guide to thank you emails relevant and valuable for your situation.
If you did, you may enjoy The Five Freebies: 5 Email Templates to Stay Connected to Your Network. Use these ready-to-send templates to interact with anyone in your network at any time. Click here to download your free copy now!