How To Write a Great Follow-Up Email 
If you invest 30-60 minutes of your time with someone, isn't it worth sending a follow up email?
Of course, the answer is yes, but urgent reactive demands can often take time and attention away from simple proactive tasks.
That's why this article will give you a simple step-by-step process to send quick and effective follow-up emails, with practical examples, top tips, and valuable free support resources, such as Mindmaven's email template checklist.
Why It's Important To Send a Follow Up Email 
Grand gestures rarely decide the difference between winning and losing; more often than not, the winner is the person who took the small extra steps.
This is especially true if you're competing in a commoditized market where the difference between you and your competitor is marginal. Think of sending follow-up emails as one of those small extra steps that can make the difference between victory and defeat.
Besides, when you look at the minimal time and energy investment involved in writing a follow-up email to your meetings, it's really a no-brainer (especially with these follow-up email templates.)
If you want to leverage the power of your network, send follow-up emails. [Tweet this!]
Costly Mistakes To Avoid With Follow-Up Emails
This won't be the first time you've thought about sending follow-up emails. In fact, it probably isn't even the first time you've tried to make this practice into a habit.
But then, something happened; a crisis arose.
You invested your time and energy into resolving a situation and, as a result, didn't have time to send your follow-up emails.
The crisis ends, but something else comes along, and the emails still don't get sent. Sound familiar? 
It's the classic story of well-intentioned habits being crushed before they're fully formed.
If you're ready to commit to this productivity habit, here are three quick tips to streamline the process and make it easier to remember to send those emails, no matter what happens.
3 Top Tips To Speed Up Follow-Up Emails
Tip 1. Create a Follow-up Email Draft Before the Meeting.  
The draft can't be too specific or detailed since it's written before the meeting, but that's okay. You can have a simple template that you flesh out after the meeting. Here's an example of what this email draft might look like: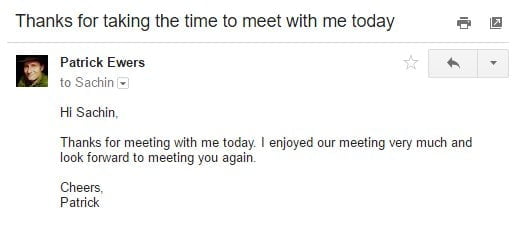 Once you've got this email in your drafts folder, you can personalize it with the key information after the meeting finishes. 
Tip 2: Use Dictation To Capture Follow-Up Notes in Just 1-2 Mins
Straight after the meeting, capture relevant information and the key components you want to be included in your follow-up. 
Check out this article to learn more about how to use dictation to boost productivity.
Tip 3: Use a Follow-Up Email Template 
A template can help you get the most relevant and important information documented to make writing follow-up emails quick and simple.
When you have a great template, you know what information you are looking for. Your Executive Assistant or Engagement Manager* can easily add the details you provide to your template if your time is required elsewhere.
*Note: An Engagement Manager from Mindmaven is an exceptional executive resource that combines the skills of an Executive Assistant and a Chief of Staff to dramatically boost productivity and free up quality executive time.
Use Mindmaven's email template checklist to instantly craft thoughtful follow-up emails that will strengthen relationships.
3-Steps To Write a Great Follow-Up Email
An effective follow-up email has three components:
Thank You
Common Ground Reference
Key Takeaways
Let's walk through this three-step process to create a successful follow-up email after a meeting.
Step 1: Thank You
"Thank you" is usually a given in follow-up emails, so why even mention it? Because gratitude is one of the most powerful ways to make a connection. 
There are two ways of communicating thanks: One is just saying it, and the other is meaning it.
Using sentences like, "I really appreciated the time you spent with me today. I hope it was time well spent for you too," or, "Let me start by saying thank you for your time today," are a great place to start.
If you can fortify these statements by adding specific reasons why you're thankful, that's even better. For example: "I learned a lot from your suggestions today," or, "I feel I will be able to act upon the advice you offered."
The key is to make sure your recipient perceives that you are genuine. Here's how this might look in practice. 
Example 1: Thank You
This gives you a good starting point, and we will continue to build upon this email using each component to add additional layers of value.
Step 2: Common Ground Reference
The second part of the email is a sentence about what you enjoyed about the meeting and what you have in common with those you met. 
Establishing common ground has three primary benefits:
✅ It personalizes the email, so it doesn't look like you're just sending out a pre-written template. This can help you come across as caring, thoughtful, and attentive.
✅ People are attracted to positivity. By highlighting a positive element of the meeting, those you met with are more likely to consider the meeting a success.
✅ Common ground is the source of all connections, and this component allows you to establish that common ground quickly.
Here's how this might look in practice.
Example 2: Common Ground Reference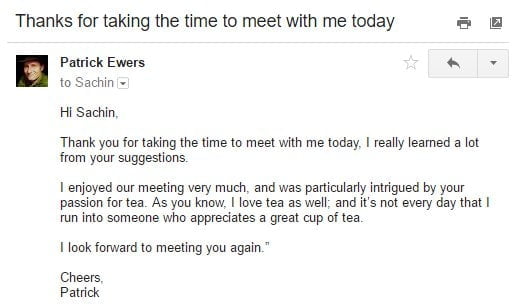 As a way to personalize and establish common ground, this follow-up email reflects on our enjoyable conversation about tea.
"I was particularly intrigued by your passion for tea. As you know, I love tea as well; and it's not every day that I run into someone who appreciates a great cup of tea."
Step 3: Key Takeaways
This final component is your opportunity to show that you're committed to this relationship by going the extra mile.
Use this section to summarize the commitments given and received. This will underscore the productivity of the meeting and create confidence that you are going to follow through.
In addition, this component also creates an informal agreement that the other party will follow through as well.
For a powerful way of leveraging these commitments (and other vital sources of meeting information), click here to learn about Meeting Debriefs.
Here's how this might look in practice.
Example 3: Key Takeaways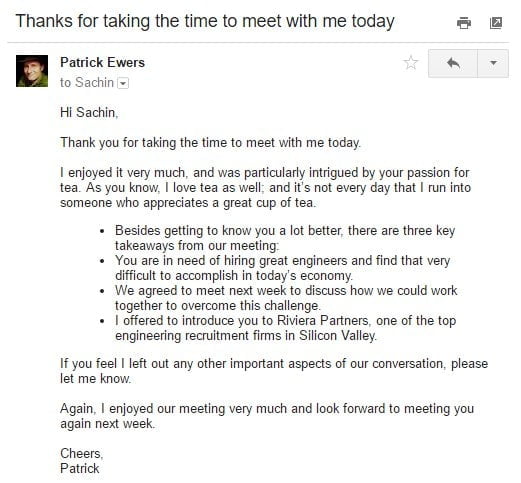 In this example, we summarize the key takeaways as clear bullet points:
Besides getting to know you a lot better, there are three key takeaways from our meeting:
You are in need of hiring great engineers and find that very difficult to accomplish in today's economy.

We agreed to meet next week to discuss how we could work together to overcome this challenge.

I offered to introduce you to Riviera Partners, one of the top engineering recruitment firms in Silicon Valley.

If you feel I left out any other important aspects of our conversation, please let me know.
Follow up with agreed action points to create a commitment trail that provides instant value and builds trust that you will deliver what you say.
Find an Approach That Works for You
Do you see how the three follow-up email components work together to create an email that your recipients are likely to perceive as relevant, valuable, and meaningful? 
The most important rule in Network Relationship Management is being genuine and staying authentic. If you say, "I'd never write that way," that's fine! 
Focus on the components of a great follow-up email without copying these specific examples. You don't need to use my exact words as they might not be right for you.
Ask yourself, "How would I communicate gratitude, establish common ground, and sum up the key takeaways?"
We all have our own style. Find yours and use the examples as inspiration to make meaningful connections with your own follow-up emails. 
Visit The Toolbox, for our best practices, comprehensive articles, pragmatic templates, checklists, and high-value video content.
Further Recommended Reading
Create "Wow" Moments in Your Relationships with the Meeting Debrief
Follow-up emails are just one common part of a greater whole we call the Meeting Debrief. In a nutshell, this concept is all about collecting and acting on the most valuable information you learn about someone over the course of a conversation. Check out this article to supercharge the ROI of your meetings and, as a result, your relationships.
Back-to-Back Meetings Poison Your Productivity. Here's the Antidote.
Follow-up emails are great but finding the time to do so can be a problem when your calendar's booked back-to-back. Check out these two quick-and-easy tactics to break the endless meeting cycle and make time for what matters most.
How to Make Professional Introductions and Write Business Introduction Emails That Deliver Massive Value To Your Network
One of the most common commitments made in meetings is an introduction. The problem is, that most people vastly underestimate the introduction process. Check out this article to make it a relevant and valuable experience for both parties.