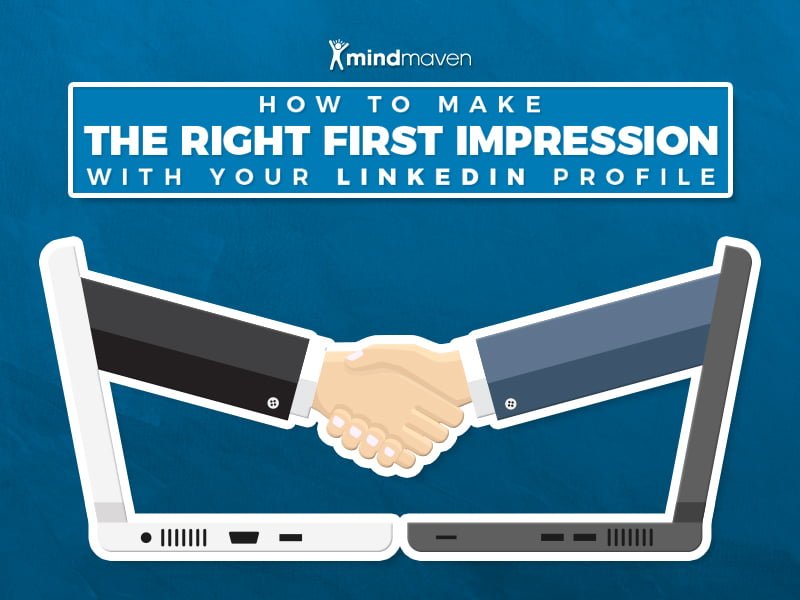 At this point, it's probably a little cliché to say first impressions are important; but like it or not, it's true. And nowhere are first impressions more important than in a referral-based environment.
But here's the problem with referrals: Many people assume they "just happen;" like they're something you have no control over. This simply isn't true. The truth is, generating referrals is a process and, like any process, once you understand it you can utilize it.
So let's start from the top: What causes someone to give you a referral? In the most basic terms: A good relationship. In order for someone to send you a referral, they need to like, respect, or trust you enough to vouch for you. So then the question becomes, "What creates a good relationship?"
Put simply: The quality of any relationship is directly proportional to the quality of the interactions that actually constitute that relationship. Frequent, high-quality interactions lead to high-quality relationships; while infrequent, low-quality interactions lead to low-quality relationships.
Interactions Create Relationships, Relationships Lead to Referrals
And arguably one of the most important interactions you'll ever have with another person is the fabled "first impression." For better or worse, that impression often colors all subsequent interactions, so it makes sense that you'd want to make a good one.
But first impressions have changed. Today, it's becoming more and more common for first impressions to be made before two people ever actually meet in person.
Thanks to social platforms like LinkedIn, About.Me, Accompany, Twitter, and even Facebook, these vital first impressions are often digital, not physical. And that's why it's so important to ensure your digital first impression is the right one.
Why Making the "Right" First Impression is More Important than Making the "Best" First Impression
You've probably been told repeatedly how important it is to "make the best first impression possible." And while it's true that you do want to make a good first impression, we at Mindmaven don't believe making the best first impression should be your priority.
Instead, we believe in making the right first impression. Here's why: When you focus on making the best first impression, this can lead to the pressure of pretending to pretend to be someone you're not to impress someone else.
And while that might make a good impression initially, that probably won't last. After all, the impression you made is inauthentic. It isn't aligned with who you truly are and, eventually, that's going to show.
When it does, there's a good chance the other person is going to feel that disconnect between who you are and who they thought you were. This subtle incongruence often leads to a breach in trust and, as you may have experienced before, trust lost at the beginning of a relationship is incredibly difficult to regain.
In any case: Pretending to be someone you're not is exhausting and ineffective. You don't need to make the best impression on everyone you meet. Instead, focus on making the right impression on the right people. Here's what that means:
Now that we've defined what the right impression is, let's talk about how you can leverage your LinkedIn profile—the hub of digital first impressions—to make that impression on a consistent basis.
3 Ways to Set Up Your LinkedIn Profile to Make the Right First Impression
If you've found yourself a little daunted by the task of building and maintaining a social media presence, it doesn't have to be as complicated as you might think. Contrary to popular belief, you don't have to update your status every day or change your profile picture every two weeks.
Setting up your LinkedIn profile to make the right first impression requires a small up-front time investment but, after that, you'll be set for the foreseeable future (as long as there are no major professional changes).
So with that said, let's take a look at 3 things you can do on LinkedIn today to start making the right first impression tomorrow.
Note: These recommendations are made with LinkedIn in mind, but the same principles apply to just about any social network, from Facebook to Twitter to Accompany to About.Me.
Want to learn more about Accompany? Check out our review! What to learn more about About.Me? Here's a few best practices.
1. Use the Summary Section to Tell Stories and Develop Common Ground
The key to making a great digital first impression is to give your audience something to connect with. So as you structure your LinkedIn profile, focus on telling a story rather than just sharing facts.
Stories are a key part of the fundamental human condition. As far back as we can trace our history, stories have been how we teach, learn, and connect with one another. So by introducing yourself in storytelling format, you give others the opportunity to connect with you and find common ground.
Here's why that last part's so important: When someone discovers they share something in common with you, they think, "I am like you." But the brain simplifies that thought to, "I like you," immediately creating a strong foundation for a great first impression.
One of the best places on LinkedIn to tell a story and establish common ground is the Summary section at the top of your profile. Too often, people make the mistake of writing these as a press release rather than treating them as the valuable storytelling opportunity they are.
Here are three quick tips to get the most out of your LinkedIn summary.
Keep it short: Aim for about three paragraphs, or around 300 words, max. By keeping it short, you increase the likelihood someone will read through to the end.
Write in the first person. "John is the founder of …" is dry and reeks of marketing copy. But something like, "I'm the founder of …" is immediately more human, more approachable, and more engaging.
Get personal. Don't just write about your professional passions. Share a couple sentences about what you care about outside of the office, too. Do you have a family? Kids? Any hobbies? These make you appear more human and more relatable.
However, keep this in mind: Although these are great general rules, don't feel bound by them. Ultimately, you want to tailor your profile to the type of people you're looking to attract. That's not to say you should pretend to be someone you're not, it just means be flexible in how you present yourself.
Need some inspiration? Here's a look at about.me co-founder Tony Conrad's (@tonysphere) expertly-written LinkedIn summary:
2. A (Profile) Picture Says 1000 Words
Generally speaking, your profile picture is the first thing most people are going to see when they visit your profile. Think of it as the "first impression of your first impression."
The right photo tells a complete story, so it's important to use them wisely. Here's a few best practices when it comes to choosing your LinkedIn profile picture:
Go for a close-cropped headshot: Something clear, attractive, and friendly. Those half-body shots look awkward and don't tend to scale well. It's important that your audience can clearly see your face.
Be you: Although you want a nice-looking photo, this doesn't necessarily mean a corporate headshot. Something candid that really captures your personality is going to make a stronger, more congruent impression than something that looks like a stock photo.
That said, don't get too creative: In most cases, artistic filters or awkward angles on your profile pictures are going to do more harm than good. Keep it simple: Your audience shouldn't have to squint to figure out what they're looking at.
Your photographic presence is just as powerful of a storytelling tool as your summary, so use it well. For a great example of a strong profile picture, look no further than LinkedIn's own Reid Hoffman (@reidhoffman):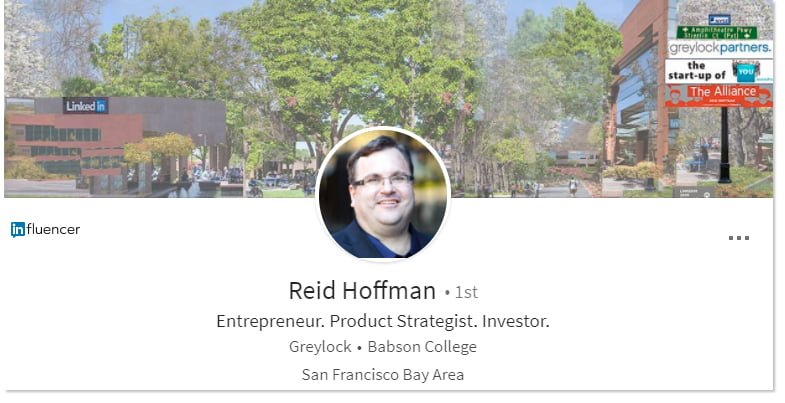 3. Tell a Complete Story
Each section of your profile is a valuable opportunity to share your narrative with visitors. For this reason, take the time to fill out every section of your profile as completely as possible.
The more thorough you are with your profile information, the more effectively you can tell your story and the more likely visitors are to find common ground with you. Here's a few best practices around some of the most common—and important—sections we haven't yet talked about.
Past Experience: Too often, I see professionals only list their most recent position on their profile. Generally speaking, you want to list the entirety of your relevant work history. Also be sure to include a short description of your role and accomplishments within that position. These offer great "hooks" to start conversations and paint a clearer picture of who you are and what you care about.
Skills: Listing your skills has two primary benefits: First off, it dramatically increases the likelihood that someone's going to find common ground with you. Secondly, including relevant skills makes your profile much more searchable. When someone searches for users with your skillset, you want your name to come up first. So be sure to include as many relevant skills as possible and, whenever possible, ask for endorsements on those skills.
Education: The education section is a great opportunity to establish common ground with someone. You never know who went to the same school as you, or who has a relative or friend who majored in the same field. For the same reason, it's usually a good idea to also include the years you attended, as well as any extra-curricular societies or activities you were a part of.
Publications: Want to really give people a close look at who you are as a person and what you care about? If you create unique content—blog posts, for example—be sure to publish them on LinkedIn as well. This allows people to get to know you on a much deeper and more personal level. Also be sure to include any publications that featured you or your company; they can serve as third-party validation and dramatically boost your credibility.
Remember: The goal here is to build bridges and establish common ground. So the more ground you cover, the higher the likelihood that you'll make the right first impression on your audience. For an example of a complete profile, I invite you to check out my own here.
The Right Impression is Worth the Investment
At the end of the day, you don't need to be a social media guru to make the right digital first impression; you just need to tell your story in a compelling, relatable way. And with these LinkedIn profile tips, you'll be well on your way to accomplishing just that.