One important thing when managing your network is being able to group people in meaningful ways. Contactually is a really powerful program that can help organize your network by the utilization of buckets (their way of grouping people). In this blog post, I will introduce different ways to get people bucketed as each of them have their own unique advantages.
Smart Search
The most efficient way of bucketing is by going into the contacts search field and doing a smart search. For example, you can try searching a company (e.g.Google) for potential talent to see everyone you know who works there. The search functionality and filters in Contactually are extremely flexible so you can do quite amazing search queries and save them.
Step 1 – Type Google or the company you are looking for in the contacts search field located at the top banner of Contactually. We'll use Mindmaven in the search below to respect the privacy of my contacts.

Step 2 – In the top left corner of each contact check mark all the people that you think would belong to that high talent bucket. 
Step 3 – Click the 'edit buckets' button and choose the bucket you would like to place these contacts in.
In The Contact Record
While you have a contact record open, you can easily bucket them there. An easy way to make bucketing a habit is by using this method. For example, if you are looking for one of your contact's email addresses, check to see if they are bucketed on the while you are in their contact record. If they are not, do so at this time. On the right-hand side you will see a green bucket that says, "Add Bucket." Simply click that and choose which bucket you would like to add them to.
The Bucket Game
The Bucket Game is specifically powerful when you want to bucket large groups of people such as your entire network (or any group greater than 40-50 people). It is important that you only select a certain number of buckets into the bucket game. What is powerful about the Bucket Game is you can use your keyboard to bucket people extremely quickly. One of the ways I rated my network was by using the Bucket Game and rating related buckets. Just to give you an example of how quick this game is, within 5 minutes of bucketing you can easily bucket over 100 people using this technique. So if you have a network of 2,000 people you would spend less than 2 hours rating your entire network.
Step 1 – Click on "Buckets" at the top of your dashboard.
Step 2 – Click on The Bucket Game at the top right of your screen.

Step 3 – Use your keyboard and type the corresponding letter for the bucket you would like to place your contact in. If you do not see the bucket you are looking for, type the semi colon key to get more bucket choices.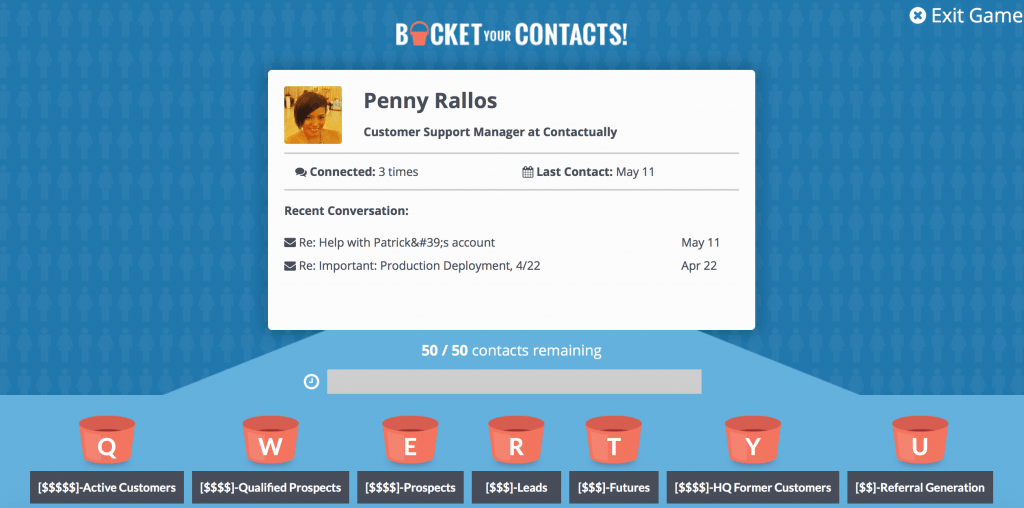 Step 4 – Continue with the rest of the contacts you would like to bucket.
Chrome or Outlook Extension
You can quickly bucket people using the Chrome or Outlook Extension. This is very powerful when you have new email correspondence with contacts you just gained. This is something we recommend using because it allows you to bucket people from where you spend most of your time already.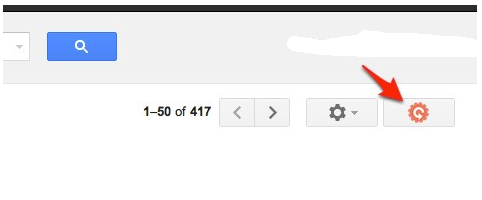 Suggested People
This works really well because it typically shows people you recently interacted with. Often, those people are more relevant for you than your general network and therefore worth investing time into. When you first log in to Contactually you will notice on your dashboard in the right lower corner a recent contacts box. There will be a list of names of recent suggested contacts. If you take a few seconds every day to bucket these people it will make your network more organized. Click the drop down box under the person's name and you can quickly add them to a bucket.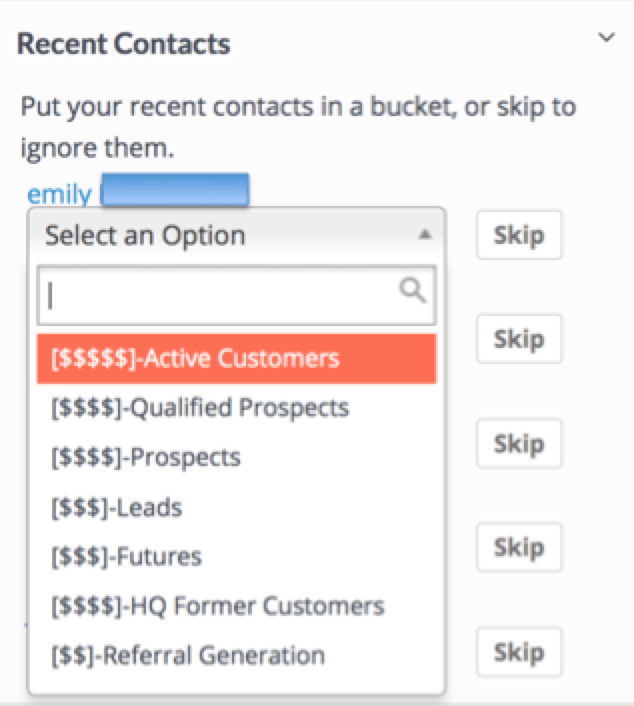 As demonstrated above, Contactually has many different ways to help get your contacts organized in an efficient way. I recommend playing around with all the different ways to bucket and find which method that works best for you. With these quick and easy ways to bucket your contacts, you are sure to be on the fast track to getting your network organized.