Achieve Sustained Fulfillment by Identifying Your Life's Themes
I love my profession. Not everyone can honestly say that, but running Mindmaven provides me with a profound amount of personal contentment and a sustained sense of satisfaction and happiness.
In fact, it was the desire to bring those qualities to the forefront of my life that led me to create Mindmaven. I founded the company after the discovery of some very basic truths about me and it has been built by putting those truths into practice every day. My professional life is very closely aligned with who I truly am.
I discovered these truths after an intense 10-day silent meditation retreat in a Buddhist monastery in Thailand and came to believe that this is one of the most attractive ways of managing a career for anyone who wants to achieve their full potential and realize true professional happiness.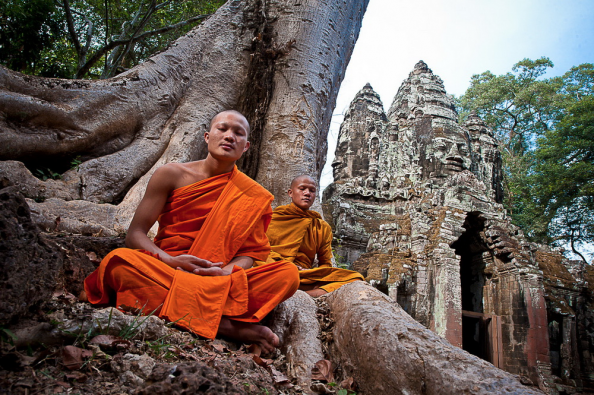 If you want to learn more about my journey toward finding my life's themes, you can read my story here.
What Are Life's Themes?
Life's themes are typically very simple things that describe who you are in a basic fundamental and core way. When their essence is realized, they tend to resonate with you in a very strong and true way.
You don't have to go to the extremes that I did to find them. For most of us, the truth and answers we seek are often found right in front of our eyes. The challenge we encounter when searching for these truths is that the busier we are with our lives, the harder it becomes to filter through the noise.
This article is focused on a few simple steps you can begin now that will allow you to get the distance and perspective you need to identify your life's themes.
Identifying Your Life's Themes
There's a very simple but powerful exercise that I regularly prescribe to my clients and friends that are seeking true professional fulfillment. Complete it and you'll be able to quickly identify the themes in your life that have the most significant impact. Here's how you do it:
Step #1: What Do You Love/Not Enjoy Doing?
Take a piece of paper and divide it into two columns, just as you would a balance sheet. Draw a large cross on it so you have your two headers with the columns underneath.

On the left side, you're going to list all of the things in the last 12 months that you really enjoyed doing. On the right side, you're going to list all of the things in the last 12 months that you didn't enjoy doing.
Your time frame can be the last six months, 12 months, five years or your entire life. Just be consistent in your approach
Take no more than a half-hour and begin listing everything that comes to mind in the appropriate columns. Think about the things you really enjoyed doing.
What things gave you a sense of extra energy? Which tasks did you have a very easy time repeating and doing over and over? What experiences caused you to talk about them with excitement? What events were you always compelled to share with others? Jot down anything that comes to mind in that sense.
Do the same for the right side when you list the things you didn't enjoy. What things did you procrastinate on? What tasks did you seem to always have to fight through to complete? What projects did you always try to forget about as soon as they were completed? Which ones did you always try to avoid or get out of your life as fast as possible through whatever means possible?
A word of advice as you write: Make the items in your lists short and deploy the rules of brainstorming where there is no such thing as a dumb idea. Just write them down in bullet-point format. If you exceed your space, begin a second page.
Step #2: What Are You Good/Bad At Doing?
[fusion_builder_container hundred_percent="yes" overflow="visible"][fusion_builder_row][fusion_builder_column type="1_1″ background_position="left top" background_color="" border_size="" border_color="" border_style="solid" spacing="yes" background_image="" background_repeat="no-repeat" padding="" margin_top="0px" margin_bottom="0px" class="" id="" animation_type="" animation_speed="0.3″ animation_direction="left" hide_on_mobile="no" center_content="no" min_height="none"]
The next step is very similar. Take another piece of paper and create your two columns. This time, you're going to list all of the things you did very well in the left column. What things did you accomplish that you're extremely proud of? What did you complete that you're most likely to happily share? What wouldn't you mind everyone knowing about? You can also include things you've done that other people have mentioned positively to you, even if you might have sometimes doubted how well you performed.

In the right column, list all of the things you didn't do well. What are you not proud of? What weren't you very good at? What things could you have done better? What things will you never be good at?
Again, take no more than a half-hour for this step, but continue to follow the rules of brainstorming and keep your individual list items bullet-point short.
Step #3: What Are Your Strengths/Weaknesses?
Now, take another piece of paper, divide it into two columns and set your timer again for 30 minutes.

In the left column, list all of your strengths. In the right column, list all of your weaknesses.
You'll probably notice that you're repeating many of your list items from the first two steps. That's common and helps to more clearly define the summary later on.
Step #4: Let the Lists Ferment and Grow
Now, take a moment to look over your lists. Continue to think about them and for the next two weeks, carry those pieces of paper with you wherever you go. Take them to work, out to eat, to the game….wherever you travel, keep those pieces of paper handy.

During those two weeks, whenever you come up with additional ideas, add them as you go. These will often be very profound extra ideas and will most likely have a great impact on shaping the landscape of yourself that you're producing through the full exercise.
One very powerful outcome of the exercise to this point is you will gain a sense of clarity about what you have always truly enjoyed and are really good at. I often call them the GPS coordinates of who you truly are and most people report having eye-opening insights just by performing the first three or four steps. It's rare you will learn something shockingly new, but the clarity created makes this unique.
However, these insights will become even clearer when you complete the final few steps.
Step # 5: Finding the Clusters that Describe You
At the end of the two weeks, take your sheets of paper and sit down with 5 to 7 different- colored pens or highlighters.
Go through your bullet-point list items and try to cluster them into similar themes.
You can approach this step through any kind of structure that makes sense; simply group similarly-themed items with the same color.
For example, you might have written down that you enjoy properly labeling all of your files, organized the garage, and have the ability to always find what you're looking for because everything is always in its place. These can all be yellow (or blue, or green) because they're similar in theme.
Once you've colored your clusters, name them accordingly. Using the example above, those similar items would all identify your love of being an organizer. Pick the labels that best make sense for you.
If you have too many colors and clusters, you might have approached this step with too much detail. Try to limit your clusters to 5 to 10 at the most.
Each cluster is a truth about you and an important theme in your life.
Step # 6: Identifying the Stars
If you have more than five clusters, look at all of them and add a star to the themes that resonate the most. Which ones have the biggest meaning and impact in your life? View them from the perspective of finding fulfillment, satisfaction and happiness.

Finally, write your starred themes down on a separate piece of paper and see if the ones you chose seem to fit with who you truly are. If you're comfortable with these new-found truths, these items are your life's themes
Discovering Your Dream Job: What to Do with Your Life's Themes
Now that you've completed the full exercise, you're in a really unique position. You should have gained some powerful clarity into what specific themes give you energy, what truly makes you happy and what types of things you're exceptionally good at doing. From here, it should be relatively easy to map your dream profession to this outcome.
If you are a very satisfied person in your job… you'll recognize that more than 50-percent of your life's themes are reflected in your current job in some way.
If you are not happy in your current job… but do not intend to change it in the short term,  this will still be a very liberating exercise because you may find areas in your job that still match up to some of your life's themes. This can help to potentially gain a higher sense of satisfaction than you've had before because you weren't previously able to recognize the positives. It's a simple mindset shift that can change the average job into something that's more satisfying than you had perceived it.
If you're hesitant to jump on the bandwagon of actively pursuing your dream job… or you're not ready to engage in drastic shifts, you can still find increased satisfaction through this exercise.
If your current job reflects even a portion of your life's themes… it's possible to fulfill your additional themes by pursuing other avenues outside of your professional life. For example, if one of your themes is that you enjoy helping people, engage in volunteer activities or philanthropic pursuits.
If you want to actively pursue your ideal dream job… start thinking about how that dream job would look if you could do something that incorporated all of those themes.
This is a journey I recommend every single person take. The more you try to visualize that, the more you realize that this journey can prove way more important to your overall sense of satisfaction than the income you're making at your current job.
And if you find that dream job, or create it through this process, I'd be very surprised if it didn't reward you with the chance to become financially successful beyond your wildest dreams.
If you find something that is closely aligned with your life's themes and make sure that it provides value, you'll be deploying yourself in a way that is highly aligned with your true self and doing something that provides you with a constant stream of energy.
That, my friends, is a recipe for success, satisfaction, fulfillment and happiness.
As long as your activities and pursuits are closely aligned with your discovered truths and newfound life's themes, greater satisfaction, fulfillment and happiness will follow.
[/fusion_builder_column][/fusion_builder_row][/fusion_builder_container]