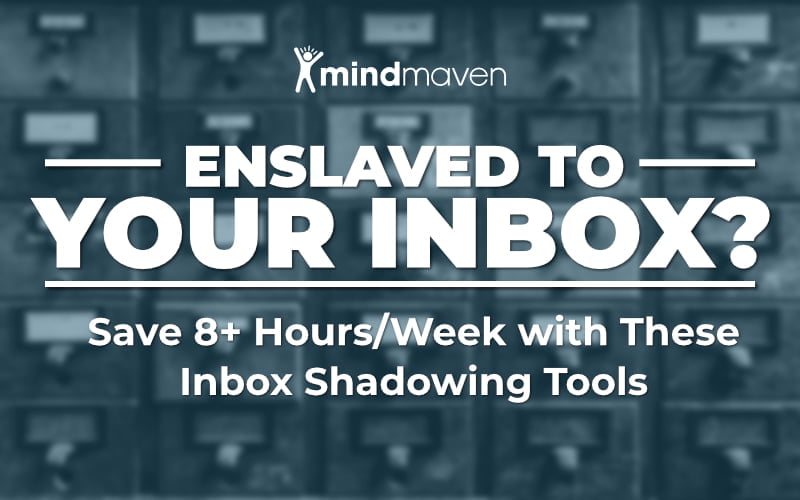 Does This Sound Like You?
I'm going to try and read your mind.
More specifically, I'm going to try to predict what email management might look like for you. If I'm right, this article could be a game-changer. If I'm wrong, you can save yourself the time of reading this. Let me know if any of these points resonate:
You spend 2+ hours a day on email.
You review your emails on a last-in/first-out basis, rather than by what's most important.
You deliver rapid, short email responses that may inadvertently communicate a lack of care to others.
You often become a bottleneck as your team sends emails you don't get around to for hours (or days).
You feel constant, low-grade stress about hidden time bombs waiting in your inbox.
You get anxious if you haven't checked your email in a couple of hours.
How'd I do? Maybe every point didn't hit home, but if at least two or three did, you're in the right place.
There's a better way.
Inbox Shadowing: A Modern Approach to Email
Inbox Shadowing is a collaborative approach to email in which you partner with your EA to proactively handle the barrage of emails that are constantly flooding your inbox. With Shadowing, your EA will:
Prioritize your inbox by what's most important.
Produce email response drafts for you (though they won't send them).
Proactively initiate new and meaningful actions with your network.
Capture, track, and execute action items and other valuable information.
This new approach has the potential to save 8+ hours a week, not to mention the massive reduction in cognitive load as you stop worrying about emails on an hour-by-hour basis.
That said: This article isn't meant to teach the nuances of Inbox Shadowing. If you'd like to learn more about how it works, read this blog post. Instead, I want to tackle the most common question I get when introducing this concept to clients: What tool should I use?
The Best Inbox Shadowing Tools on the Market
There are dozens of inbox management tools out there, with more being added every month—and few of them were designed with Shadowing in mind. So not only do you need to find which tool to use, you need to find ways to "hack" them so they'll work for you.
It can be overwhelming to know where to start.
Below I've compiled the top 5 apps myself and my clients have used for Inbox Shadowing. Note that these recommendations aren't the result of an afternoon of research. Rather, they're the result of over a decade of trial and error. That being said, these recommendations come from deep, experiential knowledge—and I'm certain any one of the tools below will be a great resource as you step into Inbox Shadowing.
Note that this list isn't in any particular order. They're all excellent solutions for Inbox Shadowing. Each tool comes with its advantages and limitations, so it's just a matter of choosing the one that most resonates with you.

Front | Pricing: Plans begin at $9/month per user (although you'll probably want to start at the $24.99/month plan)
Front earns a spot on the list due to its simplicity, extensive functionality, and, perhaps most importantly: unlike many alternatives on the market, Front built their product from the ground up with collaboration in mind.
Why We Love It
Although it takes a few workarounds to set up correctly, the thing I love most about Front is how simple and efficient it makes the Shadowing workflow. The way they set up their folders makes it easy to see …
Which emails need your attention first;
Which emails are just status updates;
Which drafts are still being produced by your EA;
Which drafts are ready to send.
Here's how that looks in my inbox: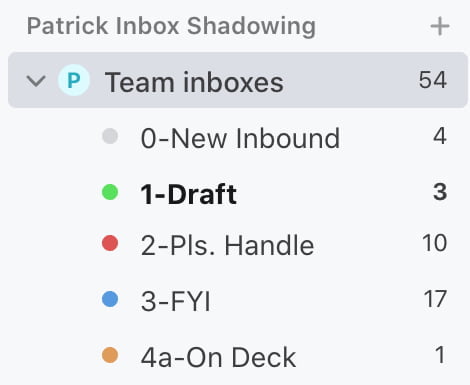 This makes it easy for you as an exec to navigate your inbox and makes it easy for your EA to run Shadowing effectively.
Second: I love that Front allows you to get leverage on your personal emails. You can add a personal account and delegate specific emails without giving your EA unlimited access to the account. This is something I haven't seen in other tools.
Third: If you want to push the envelope, you can even delegate text messages to your assistant. By integrating with Twilio, your EA can draft texts for you to send.
And finally: When you support Front, you're supporting an inspiring company with a clear and compelling vision, founded by a truly great leader. Front CEO Mathilde Collin (@collinmathilde) is an empathetic advocate for mental health, who really "walks the walk." For example: Front pays its employees $200/month if they're able to reduce their screen time to less than 14 hours/week.
She's also very transparent about her journey as a founder, and frequently posts great content on her Medium page. One of my favorites is What I learned about resilience when my cofounder got sick. As an added plus, she seems to be a productivity hacker with some intriguing habits (like her weekly calendar review).
Feature Wishlist
Front's primary limitation stems from one of its key strengths: While it was built with collaboration in mind, Front's focus is clearly on larger customer success teams, rather than smaller, more personal "teams" like a CEO/EA partnership. I'd love to see a lower-tier version of their product tailored toward something like Inbox Shadowing.
Beyond that, I've also noticed a trend in Front's feature updates: Most of their new features release exclusively on one of their most expensive tiers. While I understand the need to make premium packages feel premium, Front's entry-level plans can feel a little too limiting to be viable for Shadowing. For example: At a minimum, I'd love to see Saved Searches more widely available.
Bottom Line
After investing years on various email clients, Front is the tool I use for Inbox Shadowing. It's surprisingly easy-to-learn (and given the sheer number of options they offer, that's saying something). If you're working with an EA and want to learn more about how to set up Inbox Shadowing in Front, click here to have a chat with us.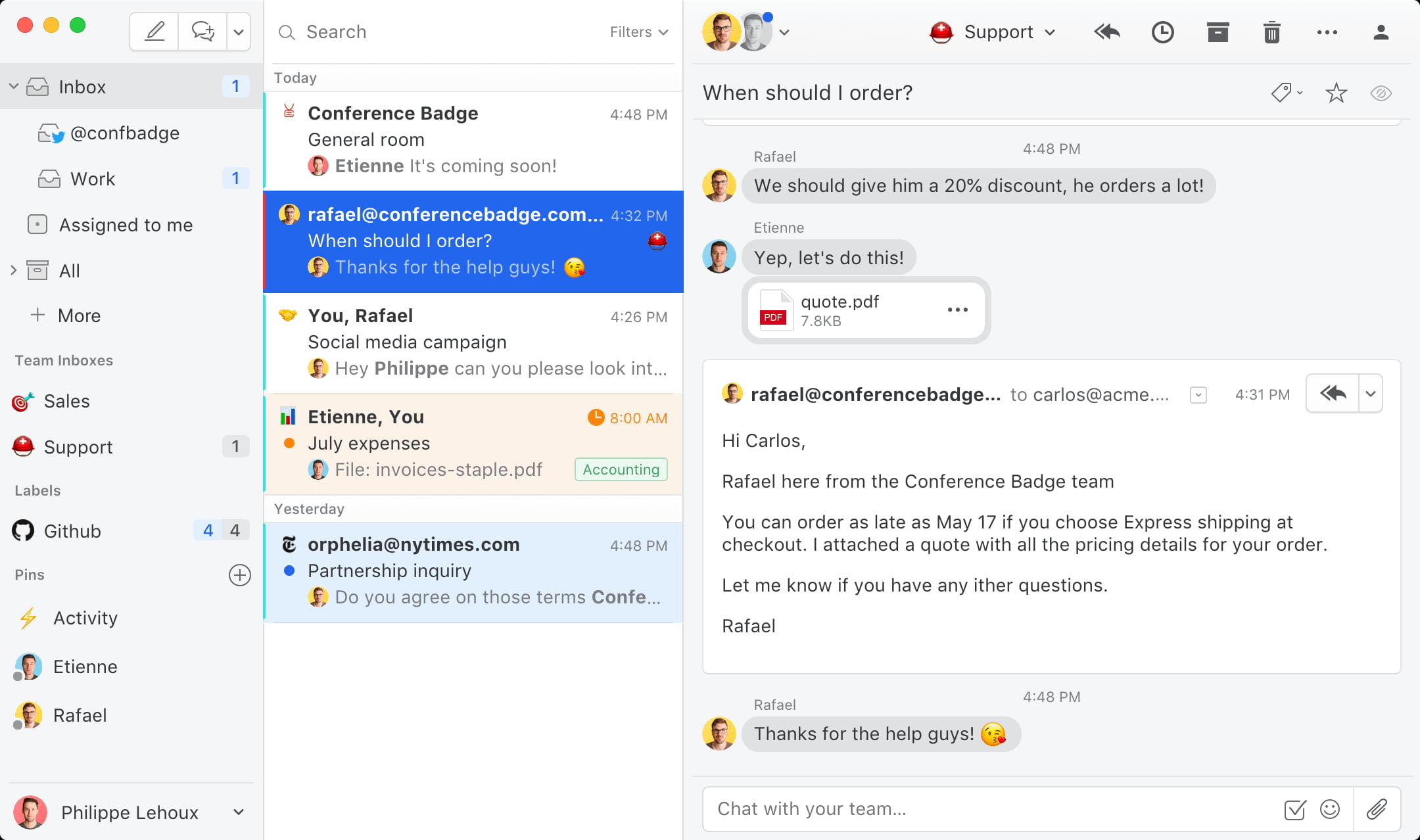 Missive | Pricing: Plans begin at $10/month per user
Missive is an intriguing tool with a big vision: To not only modernize the email process but also integrate all aspects of office communication into a single medium. It can be a little challenging to get your head around at first but, once you've figured it out, Missive is a great tool for Shadowing.
Why We Love It
One of the things that make Missive stand out for Shadowing is their in-app communication tools. For example: Let's say your EA drafts an email response for you, but the wording isn't quite right. Missive makes it easy to ask questions and leave comments directly on individual emails, making feedback and collaboration effortless.
Missive is also the most customizable option on this list. While there's a bit of a learning curve, you can set up your inbox just about any way you can imagine. For example: One of my favorite "little things" Missive allows for is custom icons for each of your folders and labels. While that might not seem like much, these icons make it easy to find what you're looking for at a glance—something I've found extremely helpful.
Finally: I really admire the team behind Missive. I have a soft spot for scrappy entrepreneurs who build amazing products, and it blows me away what a founding team of three people was able to create.
All the more impressive, co-founders Phil Lehoux (@plehoux), Etienne Lemay (@EtienneLem), and Rafael Masson (@rafbm) completely bootstrapped Missive. In my experience, this has allowed for a relentless focus on building the product their customers ask for. It often seems there's a new patch every couple weeks, complete with feature requests and bug fixes direct from their customers. There aren't many apps on the market that can boast that kind of dedication to customer feedback.
Feature Wishlist
The one feature I'd love to see incorporated into Missive is a Saved Search functionality.
For example: There are probably searches you do repeatedly in your inbox: Maybe you want to see all emails from certain team members or all messages from a specific vendor.
With a Saved Search, you can save those search parameters and simply "activate" the Saved Search anytime you need to use it. Without Saved Search, you'll have to manually perform a new search each time—and for more complicated searches (multiple email addresses, specific subject lines, specific dates, etc), this can get tiring quickly.
The final piece of feedback here is that Missive can feel a little overwhelming for those new to advanced email interfaces. It isn't quite as new user-friendly as Front, but given some dedicated time in the tool, you'll get the hang of it.
Bottom Line
Missive is a tremendous asset for anyone wanting to increase their communication efficiency. It isn't without its drawbacks (like the learning curve) but, if you're looking for an all-in-one communication tool, Missive's a strong contender with an intriguing vision for the future. Plus, you really can't beat the price—for the sheer number of features Missive offers, their pricing is the best on the market. Plus, they've got a pretty extensive free version you can try out.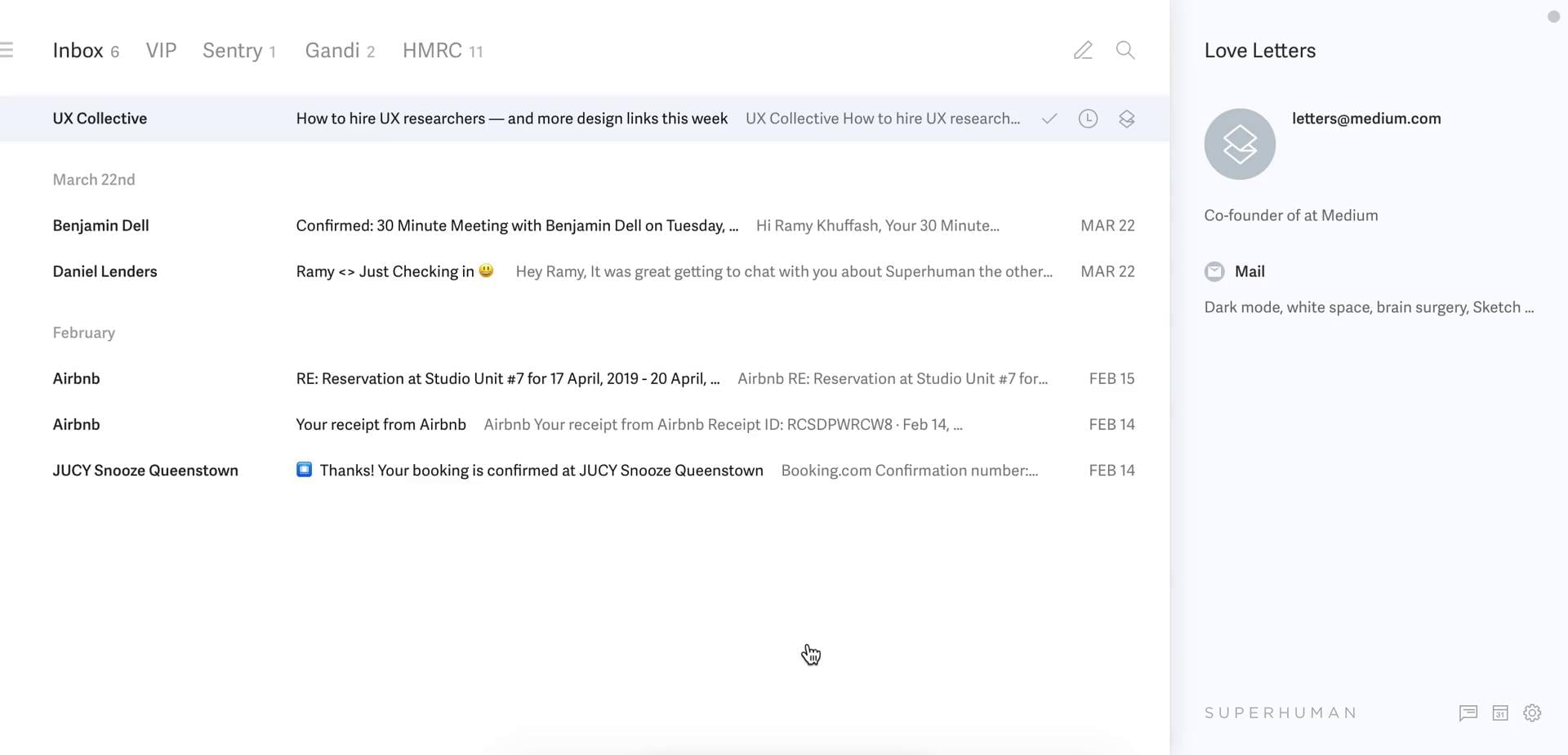 Superhuman | Pricing: Plans begin at $30/month (but huge kudos to the team for their $10/month plan for students and academics)
Superhuman co-founders Rahul Vohra (@rahulvohra),  Vivek Sodera (@vsodera) and their team built their product by asking a simple question: "What would Gmail look like if it was built today?"
And the answer is pretty exciting.
Superhuman sports a sleek interface, an impressive spread of features, and industry-leading efficiency improvements. In short: It's a productivity hacker's dream come true.
Why We Love It
You can't talk about Superhuman without bringing up keyboard shortcuts. They're undoubtedly the industry leader when it comes to these quick efficiency hacks. And don't misunderstand: I'm not talking about the standard shortcuts you can find in nearly any inbox management tool.
While most tools integrate keyboard shortcuts around their product, Superhuman feels like they built their product around keyboard shortcuts. A client of ours boasted that he can accomplish everything he needs to do in his inbox without ever touching his mouse—and I believe it.
Another one of my favorite features is Superhuman's Saved Tabs functionality. This is just another word for Saved Search, and it allows me to quickly switch between various inbox views: Personal emails, newsletters, anything marked "urgent," etc.
Another win in my book: Much like Rahul's previous creation, Rapportive, Superhuman integrates vast amounts of information about your contacts, fueled by social media profiles and mutual connections. Having this wealth of information available at your fingertips makes it easy for your assistant to draft highly personalized emails that are likely to be perceived as meaningful, relevant, and valuable.
Finally, to show just how dedicated Superhuman is to building their user's dream inbox, I've got to showcase the founding team's unique approach to product/market fit. In a First Round Review article every founder should read, founder Rahul Vohra shares the data-driven system he used to achieve product/market fit—an approach that's clearly served Superhuman well, given the rave reviews from their user base.
Feature Wishlist
In a word: Collaboration.
No app has put quite as much time and attention into saving your time as Superhuman, but it wasn't built with collaboration in mind. That's not to say Shadowing can't work in Superhuman—it certainly can—it'll just require some hacking and won't be quite as intuitive as some of the other tools on this list.
The good news is, I know the team's working hard to release collaborative features in future updates, so I'm excited to see how that shapes up. Superhuman's already a powerful Shadowing solution, and I'm certain integrated collaboration will only make it better.
Bottom Line
Without a doubt, Superhuman is one of the flashiest programs on this list, and much of its appeal comes from its exclusivity. That's right: The tool isn't widely available yet and, if you're interested in giving it a shot, you'll need to sign up for their waitlist. There's a good reason for that waitlist, though: Superhuman offers an industry-defining onboarding process to help ensure their users are successful with their program.
I've used Superhuman extensively and trained many clients on how to use it, so when I call it a powerful tool that's coming from first-hand experience. Even though the collaboration features aren't as extensive as some other tools on this list, I've seen it work exceptionally well for shadowing.
Out of all the tools here, Superhuman is the one I'm keeping the closest eye on. Something tells me Rahul, Vivek, and their team is going to change the email game even more than they already have.

Gmail | Pricing: Free
A titan of the email game—responsible for 53% of all emails sent and received in the US in 2020—Gmail needs no introduction. They've been in the game longer than most, and time and experience have made this a powerful Inbox Shadowing tool.
Why We Love It
Gmail is feature-rich without feeling bloated. In fact, many of the features I've praised other tools for are available in Gmail, for free. Some of my favorites?
An undo send function.
Extensive Saved Searches.
State-of-the-Art AI-driven spam filtering.
Even better: Gmail recently updated their archaic mail delegation system, making it a serious competitor in the Inbox Shadowing game.
Feature Wishlist
Gmail's most frustrating limitation is the way they use labels: Right now, there's no way to add labels or categorization to individual emails in a conversation strand; they can only be added to the thread as a whole.
Most Gmail users have their inbox display in conversation view, which groups email replies into a single thread (rather than individual emails). For example: If you're in a conversation with three other people, all emails are captured in a single thread, sorted by most recent.
In a perfect world, your assistant would be able to individually label each message within that thread. However, given Gmail's current limitations, they can't. All they can do is assign a label to the entire thread, with no way to indicate which individual email the label applies to.
Bottom Line
At the end of the day, you can't go wrong with Gmail. It's the tool many of our clients use for Inbox Shadowing and, although it requires you to get a little creative with the labeling system, it works exceptionally well.
Not only is it available for free—making it a great "getting started" option—it has all the features you need for a successful (if somewhat basic) Inbox Shadowing experience.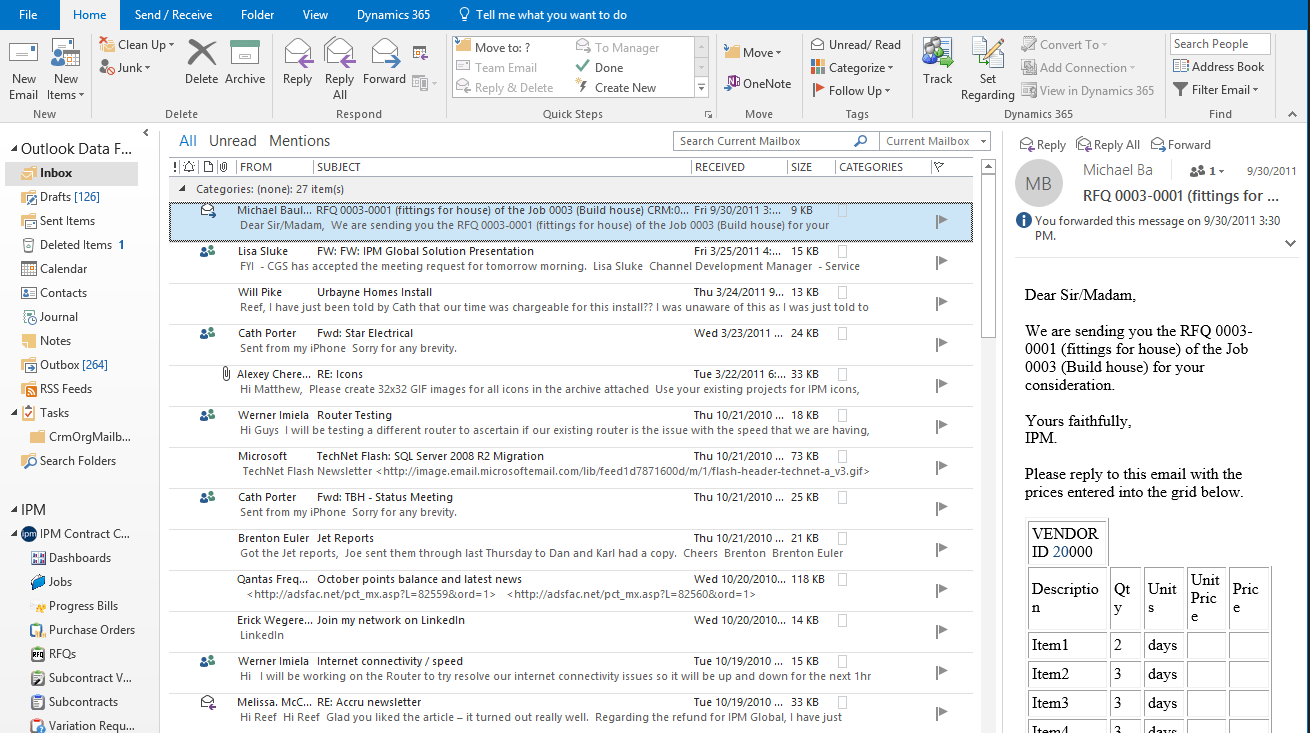 Outlook | Pricing: $139 One-Time Purchase, or $10/monthly.
Full disclosure: Outlook was my first real experience with Inbox Shadowing, so I'll always have a soft spot for it. Although it hasn't been my daily tool for over a decade now, Outlook's user-friendly and flexible approach to email management still makes it a serious contender.
Why We Love It
Delegation: In Outlook, you can delegate every email, making it ideal for collaboration. If you happen to be supported by multiple EAs, this delegation feature can be game-changing.
Beyond that, Outlook has powerful integration options. As would be expected, it interfaces very well with any of the other Microsoft Office products (and especially well with their calendar). There's even a Zoom plugin that makes managing online meetings effortless.
Many of my clients also praise Outlook for its advanced privacy and security capabilities, making it an industry standard for many larger corporations. Finally, Outlook's ability to store mail offline can be a lifesaver for anyone who travels regularly.
Feature Wishlist
Outlook's two biggest drawbacks are its interface and it's saved search functionality.
From an interface perspective, Outlook can become very cluttered, very quickly. This can lead to both you and your EA spending more time trying to accomplish a simple task or find a single email than should be necessary.
From a Saved Search perspective, it's outdated. The options are incredibly limited and, for some reason, leveraging this feature is very memory intensive. If you're running an older computer, expect slowdowns when navigating between searches.
Bottom Line
Outlook remains one of the most common tools we train our clients on simply because it's the tool they know best (or because privacy concerns require it).
Even though it shows some signs of age, Outlook remains an extremely viable option for Inbox Shadowing. Unlike some of the newer tools on the market, you can generally count on Outlook being a safe bet—Microsoft isn't going anywhere and, with their steady stream of updates to Outlook, it's safe to assume their email management tool isn't either.
Remember: Communication, Collaboration, and Calibration is More Important Than Any Tool
And there you have it: Five tools to get started with Inbox Shadowing. But please hear me when I say this: The specific tool plays only a small part in the success of Inbox Shadowing.
More than anything, what makes or breaks Inbox Shadowing is your partnership with your EA: How you communicate, collaborate, and calibrate together.
If you're serious about rolling out Inbox Shadowing, let us help. We've coached countless CEOs and their EAs on how to set up this system—and many others—so we know what it takes. Whatever your concerns or challenges, we've probably seen them before, and we'd love the opportunity to help you overcome them so you can experience the life-changing benefits of Inbox Shadowing.
Click here to set up a free call with one of our coaches and we'll get you started.